Vinyl banners remain one of the most durable and popular options for hanging graphics. They are an affordable and eye-catching form of display graphic.
13 oz. vinyl is our most popular banner material. It is also known as scrim banner. 13 oz. banners contains a polyester mesh, or scrim, that provides an internal support structure to give the material needed strength for outdoor applications. The scrim pattern only allows for single-sided printing.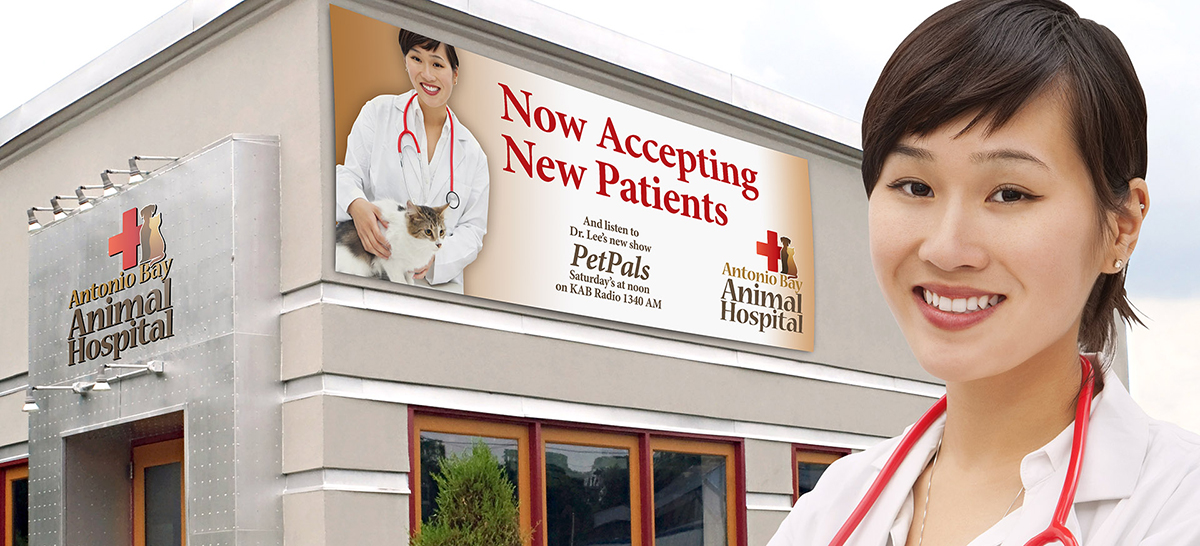 Firehouse's digitally printed banners are produced with our UV-curing wide-format machines. Any requested hems or pole pockets are machine sewn and grommets can be added for easy hanging.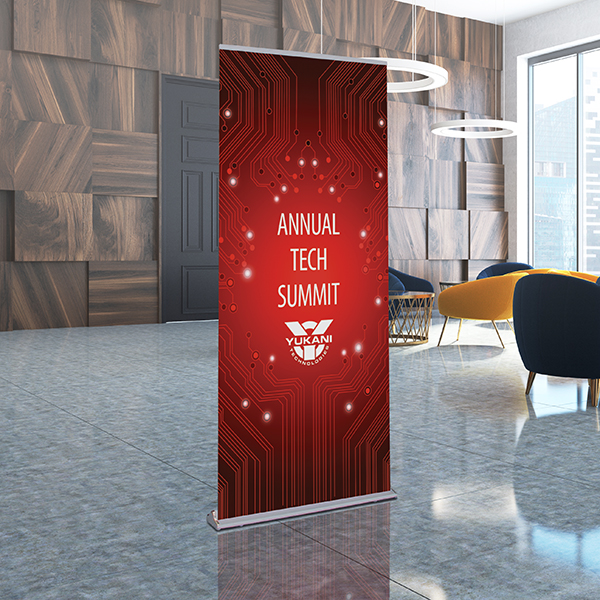 Blockout Banner is also known as "Smooth" banner." This material is "Smooth" because it does not contain a polyester mesh. The smooth surface allows for double-sided printing. A necessity for double-sided printing is an opaque material. That's where the "Blockout" name comes into play. The material contains an internal, opaque layer. It's ideal for outdoor and bright light situations.
Because it does not contain a scrim, 13 oz. blockout is recommended for indoor use only. It's the ideal choice for banner stands, trade show graphics and ceiling banners.
Outdoor Blockout Banner (18oz.)
Our 18oz. Blockout Banner offers the smooth surface and light-blocking benefits of our 13 oz. material. But, it also adds a polyester scrim sandwiched in the middle. So, this banner will stand up to long-term outdoor display.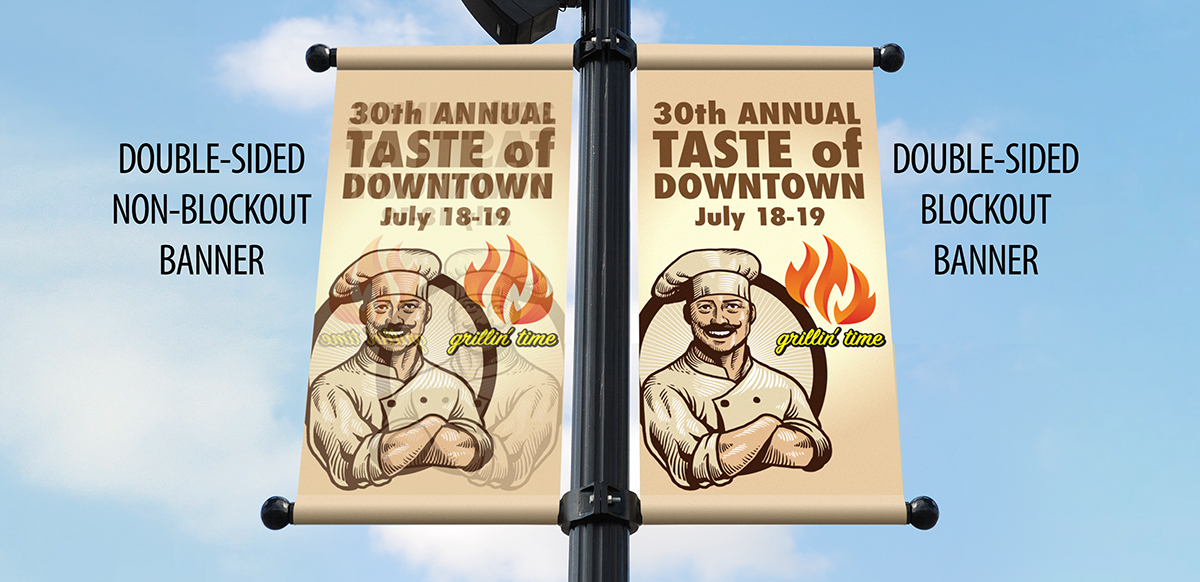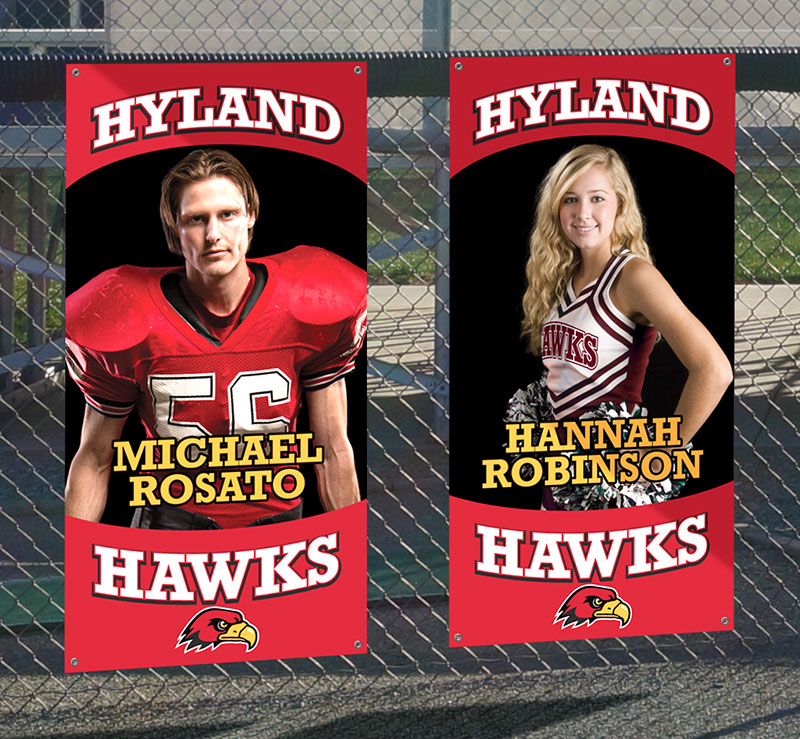 It's the perfect choice for double-sided outdoor banners. But, because it's thicker and more durable than our 13 oz. scrim banner, even single-sided applications will last longer on 18 oz. Blockout. Banners that need to last outdoors through a season (Football banners), a display (Museum Banners) or an event (City Pole Banners) are ideal applications for 18 oz. Blockout.
Mesh is a solid choice for large, outdoor banners. Mesh banners are perforated to achieve an even airflow through the material while maintaining enough print surface for excellent printability.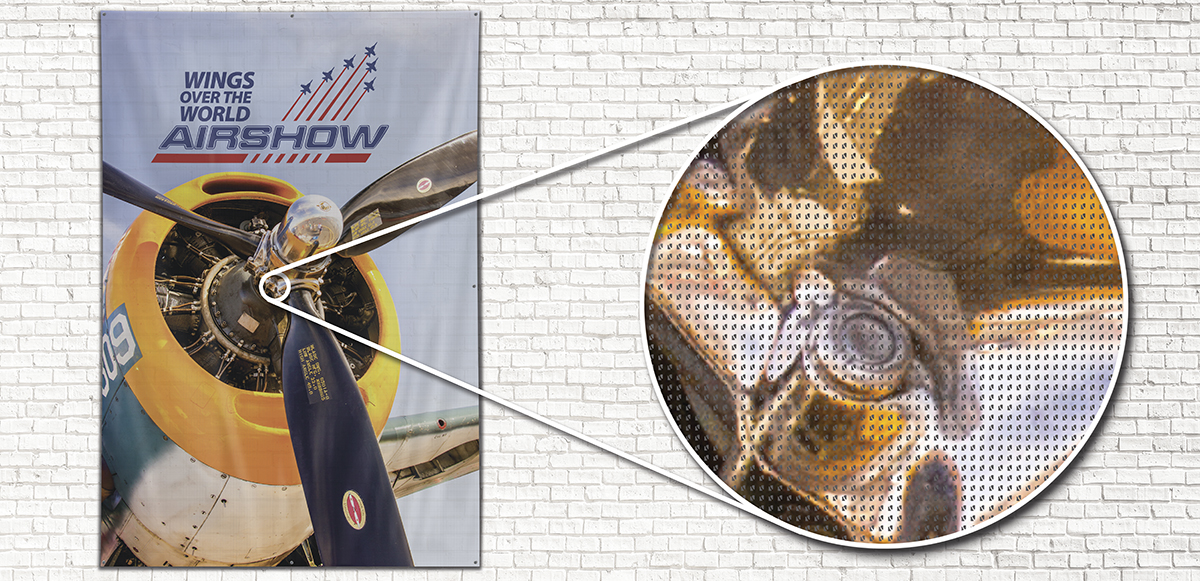 In addition to aiding with airflow, the perforations also contribute to a nearly 30% weight reduction in mesh banners vs. standard vinyl banners. Mesh banners are ideal for outdoor events, stadium wraps, building banners and construction sites.